Attachment
1. Proper Size - Determine the correct size of the mounting area.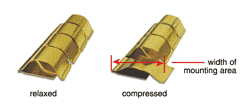 2. Dynamic Range of Compression - Each shield gasket compresses a certain distance depending on the design. A positive contact force can usually be assured after the gaskets are compressed 25% of relaxed height and beyond.
3. Attachment Methods - Among Eclipse's standard configurations, are the following:
4. Correct Orientation - Many of the Eclipse gasket designs depend on the active contact surface (top) being engaged at, or behind, the cross-sectional centerline. To assure the proper angle of engagement, follow the guidelines below for best results.